Mrs Oldbucks Pantry, Berrima
In 2018, Carol Brown purchased and took over the famed Mrs Oldbucks store in historic Berrima. Now known as Mrs Oldbucks Pantry, the business started out as a "home-made" jam shop in that town some 40 years ago. The business has since moved to its present location on the corner of Wingecarribee Street and Old Hume Highway, Berrima – a location that has become known as "Mrs Oldbucks Corner".
Carol has had years of experience in retail businesses, and has used this experience to re-invent Mrs Oldbucks and turn it into much more than a charming jam and tea shop. She has turned it into a most delightful store containing a treasury of tasty treats, including a vast range of teas, locally ground coffee, jams and preserves, olive oils and dressings, fruit and nut butters, chocolate and sweet delights … and the list goes on. One of the best things about Mrs Oldbucks Pantry is that most of the products sold there are local, and this has helped it become a real destination for those many people who now return time and time again to stock up on the culinary delights offered there.
Customers in the know are currently making a bee-line to Mrs Oldbucks to purchase special Christmas gift hampers which have been made up already. However, if there are special items wanted in a particular hamper Carol will make them up to order. So, don't miss out! Stop by and be welcomed into Mrs Oldbucks soon – you won't be sorry!
If you are unable to visit Carol at Mrs Oldbucks Pantry in Berrima, you can check out, and order from, the range of delicious goodies on her website http://www.mrsoldbucks.com.au/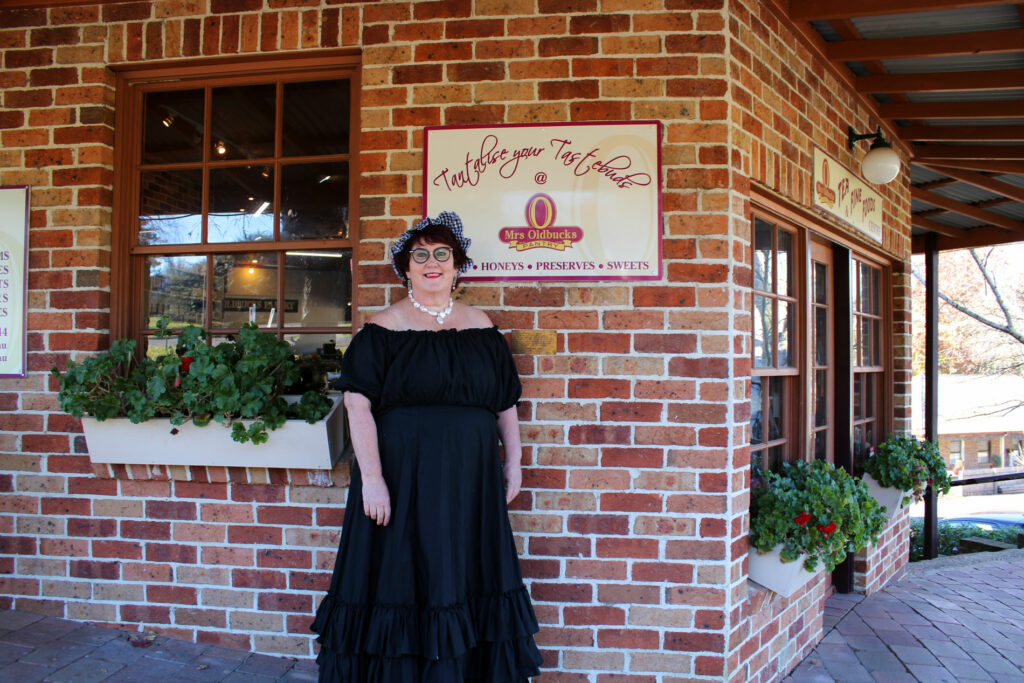 "You have to love what you do as running a small business is very difficult but also really rewarding. I do not want to sacrifice the joy of village life and chatting to the diverse people walking in and out of our door. That is the fun of it, talking to a group of women down in the Highlands for a girls getaway weekend and reveling in the joy of shopping. Recalling stories of the jams Grandma used to make as its that food connection and memory that has provided the fuel to keep Mrs Oldbucks going for 4 decades."
"This brand has survived 40 years and seen everything from the GFC, war in the Middle East to the Berrima By Pass. Now its my turn to keep offering the comfort food of our past and present so these great Mrs Oldbucks recipes are still accessible. Everything that is old is new again from Dunlop Volleys to buying food direct from the farm. I love the challenge ahead of keeping this great brand in the ongoing Australian food conversation."
"No amazon, no bright lights…I am 55 not 25….I just want to keep it local, manageable and enjoy the process and brand. For me community engagement is talking to my customers. I want to know my customers by name, some of whom I may only see once a year and whilst Amazon is great for big brands it's not in Mrs Oldbucks future."