We know Halloween is close, so we wanted to add a little excitement to your next kitchen cooking adventure. These sweet raspberry treats are filled with fresh raspberries and then topped off with sprinkle-studded spiders for the ultimate addition to your spooky soiree.
Ingredients
1 package frozen puff pastry (2 sheets), thawed

All-purpose flour

1/2 cup Mrs Oldbucks Raspberry Jam

1½ cups raspberries

1 large egg

1 tablespoon milk

1½ cup chocolate melts

16 candy eyes

Black sprinkles
Method
Preheat the oven to 200°C and line two baking trays with baking paper.

Unfold each sheet of puff pastry onto a lightly floured work surface then using a rolling pin, gently roll atop the pastry to seal the perforations. Using a 3cm circular cookie cutter, cut out circles and transfer them to the baking sheets, spacing them about 5cm apart.

Lightly score a circular border inside each circle about 1/2cm from the edge then prick the centers several times with a fork. Add about 1 tablespoon of jam into the center of each circle and spread it until it reaches the scored edge. Top the jam with 3 to 4 raspberries.

In a small bowl, whisk together the egg with the milk then brush the egg wash around the edges of each circle. Bake the tarts for 13 to 15 minutes until they're golden and puffed. While the tarts bake, make the edible spiders.

Line a baking sheet with parchment paper then melt the chocolate melts per the package instructions. Add the chocolate melts to a piping bag or sealable plastic bag, snip off the tip and then pipe the shapes of spiders onto the parchment paper. Immediately add the candy eyes and sprinkles. Refrigerate the spiders for 5 to 10 minutes or until they have fully hardened.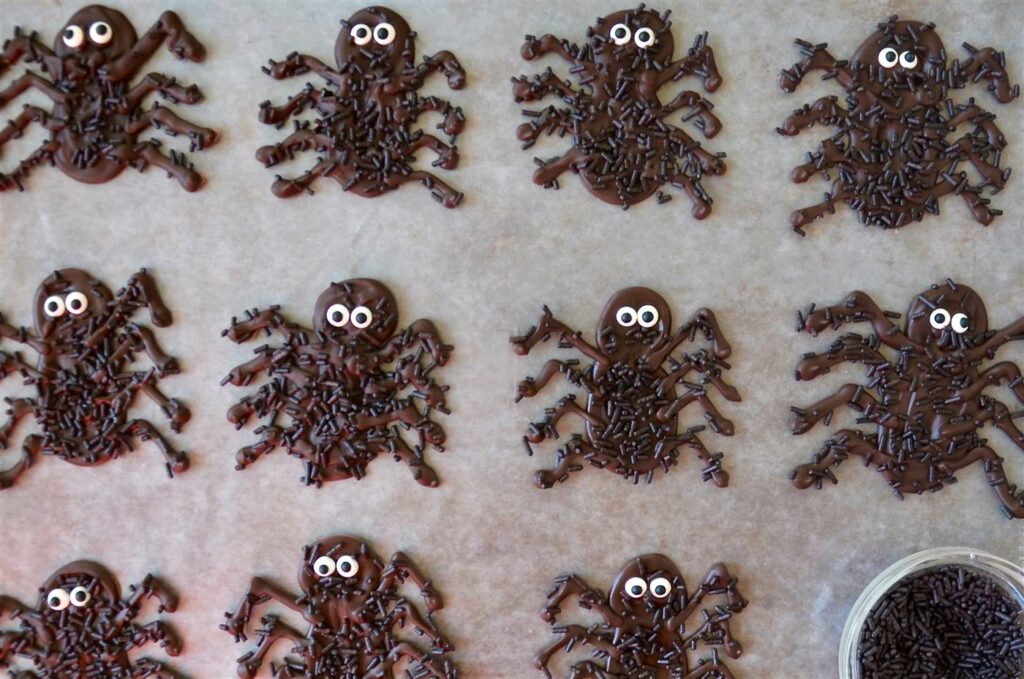 Remove the tarts from the oven then transfer them to a cooling rack to cool completely.

Use an offset spatula to release the spiders from the baking sheet. Place the spiders on top of the cooled tarts and serve immediately.